Horarios  provisionales ingles Aranjuez.
Las clases de inglés comienzan el 9 de septiembre  2019.
Estamos abiertos a información e inscripciones a partir del 2 de septiembre. O contáctenos en info@worldidiomas.com
Las clases de chino comenzarán en octubre.
El inglés para jóvenes (de 4 a 6 años) comenzará en octubre.

English classes. First Certificate KET PET CAE Advanced Proficiency Cambridge English. Chino HSK y YCT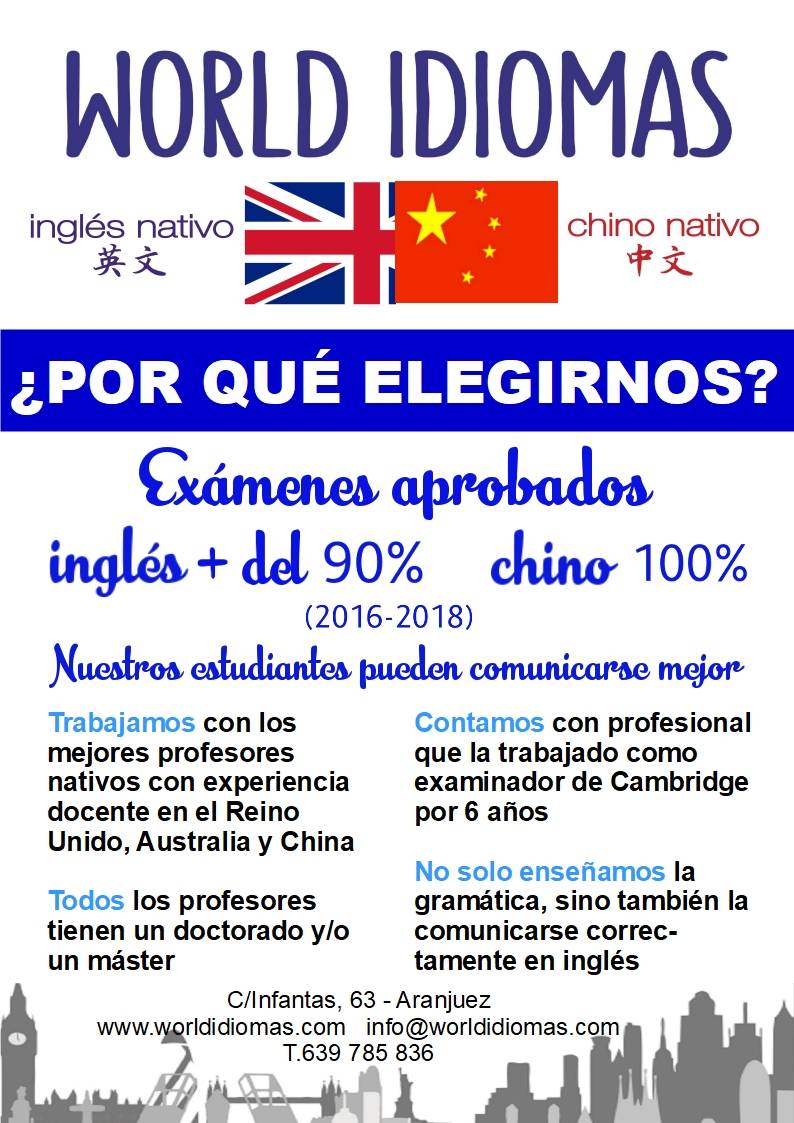 clases English inglés Aranjuez
clases Chinese chino Mandarin Aranjuez
Young Learners
Rhyme, story and song based learning – ideal for younger students. Outcome – familiarity with English sounds, vocabulary, sentence structures and the culture of English speaking countries.
Beginners
Worksheet, partner and group work to practice greetings and learn about object names, numbers, time, days of the week and seasons ... Outcome – begin to socialise in English, develop skills in English structures, and begin to write in English while gaining increased cultural awareness of English speaking countries.
Intermediate
A broad range of work focusing on the use of different tenses while building vocabulary skills and improving pronunciation and writing skills. Outcome – asking and answering questions, describing objects and situations, confidence in the use of written English and ongoing increased knowledge and awareness of English usage.
Advanced
Improve English confidence through detailed descriptive work and the use of expressions, conversation, scenario exercises and roll play including presenting to the group. Students learn about major contemporary issues affecting a range of English speaking countries. Outcome – high level of confidence in the use of English and improved awareness and skills associated with real-world native English usage.
Conversation Classes (English Corner)
Different levels and/or age groups – designed to get you using English confidently with a less formal approach. Led group and pair work based on discussions and descriptions of topical and other issues of interest. For example, talk about an online news article – get your message across to the group and learn how to improve your communication then listen to others and help suggest how their communication could be improved. Outcome – enhanced vocabulary and improved discussion and interaction skills in English while increasing your knowledge of local and global issues and strengthening your cultural awareness.
A broad range of study focused on business environments. Based on Cambridge Business English, areas of study include, working life, company structures, corporate communication, marketing and sales, money and finance, purchasing, people management, corporate social responsibility, innovation, research and development, travel and entertainment, economic issues, and business in a globalised world. Outcome – enhanced knowledge of English as used both in day–to-day life and in the business environment.

Appropriate language use for academic project work and publishing. Choice of appropriate vocabulary and sentence structures alongside learning about the overall framework required for academic work. Assistance with presentation skills and referencing plus help with specific tasks being undertaken such as dissertations and works to be published.

Additional Classes
Occasional group or individual classes to enhance skills in specific areas such as résumé and curriculum vitae (CV) writing, applications to academic institutions,  job applications, presentation skills, interview skills, thesis writing, referencing, working and studying in English speaking countries and preparation for travel to English speaking countries …
Chinese: beginner to advanced, business and academic levels
Lessons aligned to HSK (Chinese Proficiency Tests). Appropriate teaching for all levels and preferred skills and specialization.
Learn about Chinese culture to help you understand the country and its people. Cultural understanding helps language development and develops real-world communication skills.
Young learners' Chinese
Chinese immersion using rhymes, games and visual prompts to rapidly introduce the basics of Chinese in a natural way. Ongoing communication skills developed following the HSK assessment model.