Inglés

y Chino Aranjuez

Enviar un correo electrónico o llamar con cualquier solicitud de clase o visitar World Idiomas (C / Infantas 63).
English and Chinese classes. First   Certificate,  KET,  PET,  CAE Advanced,   Proficiency -  Cambridge English
English FCE (Cambridge First Certificate) - 3 grupos - lunes y miércoles a las 8pm; martes y jueves a las 9 pm; sábados de 11 a 13 h. comienza ahora
English CAE (Cambridge Advanced C1) - martes y jueves 10:00 comienza ahora
Inglés adulto intermedio y conversación - lunes y viernes por la tarde comienza ahora
también todos los niveles adultos y niños grupos y individual
mejor communicación – mejores oportunidades
Esperamos verte  
info@worldidiomas.com       o      contacto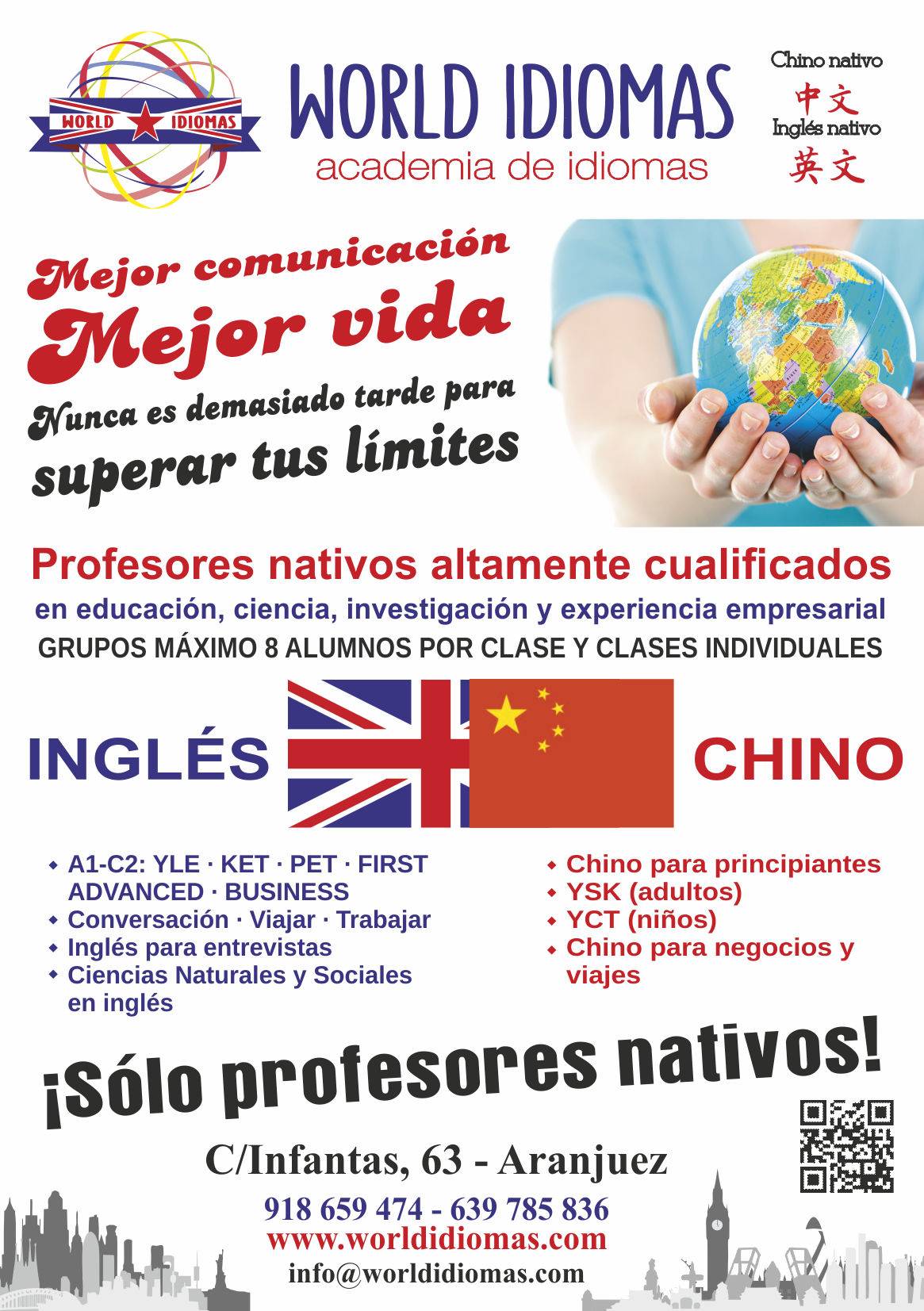 clases inglés English Aranjuez clases chino Chinese mandarin Aranjuez

¡Sólo profesores nativos!
titulados en educación, ciencia, investigación y experiencia empresarial
Inglés:  YLE, KET, PET, FIRST CERTIFICATE, ADVANCED, BUSINESS
(A1-C2);
Conversación, Viajar, Trabajar
Inglés para Entrevistas
Ciencias naturales y sociales en inglés
Chino: Chino para principantes
HSK (adults)
YCT (niños)
Chino para negocios y viajes
clases inglés English Aranjuez clases chino Chinese mandarin Aranjuez
It's never too late to improve your life - Nunca es demasiado tarde para superar tus límites. Join a group in December or January - Grupos abiertos en Diciembre y Enero
World Idiomas Academia de Idiomas Aranjuez
Calle de las Infantas 63, Aranjuez 28300, Madrid
Native English, native Chinese and bilingual Chinese/English teachers.
Qualified staff all with Master's or PhD degrees.
Teaching and business experience in universities, language schools, government departments and international commercial organisations in the UK, USA, Australia and China.
Beginners to advanced, business, academic and beyond.
Groups and individual lessons for all levels and ages.
our classes
We help our students achieve their place in the world. Communicate and enjoy life.
teachers
Check out our experience. Join us on our mission to make the world a better place.
clases inglés English Aranjuez clases chino Chinese mandarin Aranjuez
Clases de inglés Aranjuez: beginner to advanced, business and academic levels
Teaching based on age and context appropriate Cambridge assessment scales. Focus your English on travel, business or academic needs.
 Adult English
Lessons matched to real-world communication needs while meeting widely recognized Cambridge assessment requirements. PET (Preliminary), FCE (First Certificate), CAE (Advanced), CPE (Proficiency). Group and individual lessons available.

Young learners' and intermediate English
Rhymes, games and other activities encourage young and not so young learners. Ongoing progress is matched to school curriculum and Cambridge assessment levels - YLE assessment (Starters, Movers and Flyers); KET (Key); and PET (Preliminary) levels.

Clases de chino Aranjuez: beginner to advanced, business and academic levels
Lessons aligned to HSK (Chinese Proficiency Tests). Appropriate teaching for all levels and preferred skills and specialization.

Chinese Language and Culture
Learn about Chinese culture to help you understand the country and its people. Cultural understanding helps language development and develops real-world communication skills.

Young learners' Chinese
Chinese immersion using rhymes, games and visual prompts to rapidly introduce the basics of Chinese in a natural way. Ongoing communication skills developed following the HSK assessment model.